A tool that enables you to keep track of your safety performance, safety culture maturity and safety leadership capability
GLOBAL SAFETY INDEX WORKPLACE HEALTH & SAFETY ONLINE SYSTEM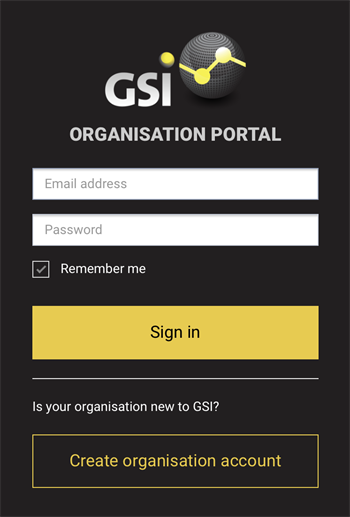 An unlimited choice of workplace health & safety performance indicators form the basis of the Global Safety Index Safety Outcomes benchmark.
Select from a large bank of workplace health & safety performance indicators, both Lag and Lead. The bank includes all the traditional lag indicators that have been used across the globe regardless of industry or geographical location. However GSI has also included a significant number of lead indicators identified through both what we know is currently being used by GSI members as well as extensive research on popular lead indicators.
However the real value of the new GSI system is that you can now create your own performance indicators! If the GSI bank does not have the indicator that you are using and/or plan to use then you can create your own indicator. In just a few easy steps you will be able to record, measure and benchmark your very own indicator. The indicator can be of any type, shape and form, with no restriction on what you wish to measure, benchmark and display on your custom dashboard.
A robust online dashboard allows organisations to benchmark their performance across these indicators both internally (against business area, demographic, job function and more) and globally (against industry, geography, organisation and more). The dashboard is available online anytime, anywhere from any web-enabled device.
MEASURING AND BENCHMARKING SAFETY OUTCOMES WILL PROVIDE DATA TO SUPPORT YOUR ORGANISATION'S SAFETY STRATEGIES AND ACTION PLANS.
THIS WILL ALLOW YOUR SAFETY INITIATIVES TO BE BETTER UNDERSTOOD, MORE READILY ACCEPTED AND EFFECTIVELY EXECUTED.
CREATE YOUR OWN WORKPLACE HEALTH & SAFETY PERFORMANCE INDICATOR SET COMPRISING OF YOUR ORGANISATION'S UNIQUE COMBINATION OF LEAD AND LAG PERFORMANCE INDICATORS.
WHAT IF YOU COULD GET DIRECT FEEDBACK FROM THE FRONT LINE ON YOUR SAFETY CULTURE?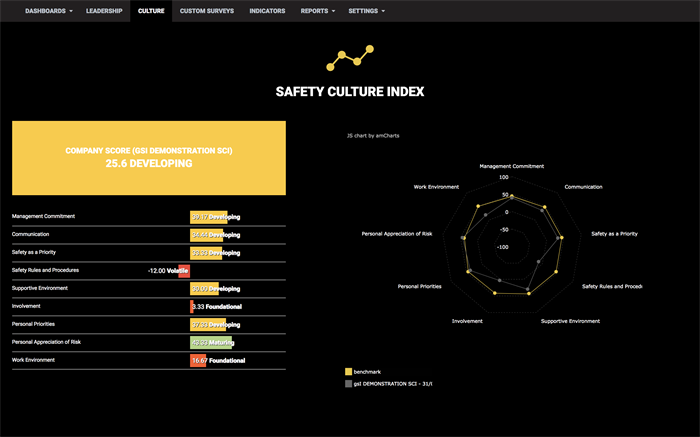 Global Safety Index can provide a comprehensive profile of the safety culture of your organisation, by investigating the perceptions and experiences of people in the areas of:
Management Commitment
Communication
Safety as a Priority
Safety Rules and Procedures
Supportive Environment
Involvement
Personal Priorities
Personal Appreciation of Risk
Work Environment
The Safety Culture Index provides an objective assessment of the strengths and weaknesses of your organisation's safety culture. The Global Safety Index online dashboard benchmarks organisational culture against internal and global norms.
THE SAFETY CULTURE INDEX PROVIDES INSIGHTS INTO SAFETY CULTURE SO THAT YOUR ORGANISATION CAN ACT WITH CONFIDENCE TO STRATEGICALLY PRIORITISE AND EFFICIENTLY TARGET RESOURCES TOWARDS CULTURAL CHANGE TO DRIVE IMPROVED SAFETY.
DO YOUR LEADERS HAVE THE SKILLS REQUIRED TO LEAD A HIGH PERFORMANCE SAFETY CULTURE?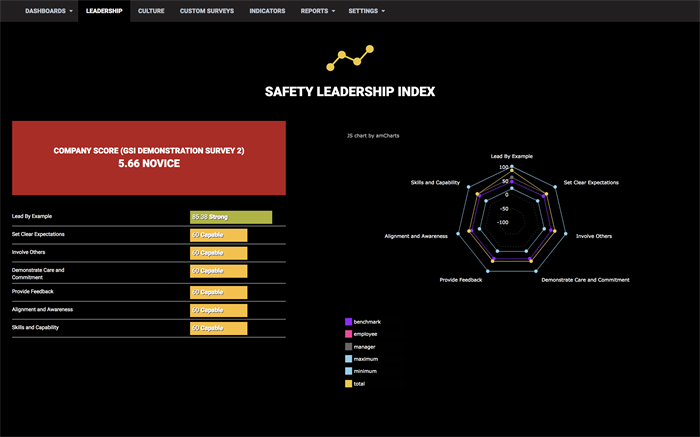 Global Safety Index can measure the safety leadership capabilities by profiling individual leaders' behaviours and attitudes across the areas of:
Lead by Example
Set Clear Expectations
Involve Others
Demonstrate Care and Commitment
Provide Feedback
Alignment and Awareness
Skills and Capability
The Safety Leadership Index provides personal insights to leaders so they can improve their leadership capability individually. It also allows organisations to benchmark their leadership capability externally and track improvements over time.
THE SAFETY LEADERSHIP INDEX ALLOWS YOUR ORGANISATION TO PRIORITISE RESOURCE ALLOCATION TOWARDS DELIVERING THE TARGETED SKILLS AND CAPABILITIES IMPROVEMENTS REQUIRED TO DRIVE A BETTER SAFETY PERFORMANCE.