Capture employee perceptions of their daily experience of safety to identify the organisation's safety culture maturity
WHAT IS THE SAFETY CULTURE INDEX?
The Safety Culture Index (SCI) is a multi-category survey instrument designed to categorise individual perceptions, beliefs, experiences and behavioursconcerning safety within an organisation. Survey information is then assessed against internal and external safety culture norms. The SCI is an adaptation of the Loughborough University Safety Climate Assessment which was developed in conjunction with the Off shore Safety Division of the Health Safety Executive, UK.
WHY MEASURE SAFETY CULTURE?
When looking to achieve improved safety performance it is necessary to consider the 'culture/climate'* that prevails at any given time within an organisation.
What is not known by many business leaders is which elements of culture they should focus on to address key safety challenges. Once we agree on what the issues are, we then need to be clear about where to start. The GSI Safety Culture Index helps organisation's objectively assess strengths and weaknesses from a cultural perspective. This allows organisations to prioritiseand target resources. To increase efficiency and return on investment the GSI Safety Culture Index benchmarks an organisation's cultural status against high-performance cultures to determine the culture gap.
Safety culture can be viewed as a subset of the overall culture of the organisation. Often described as shared values or beliefs, which characterisesafety within the organisation. It has been defined as:
'the product of individual and group values, attitudes and beliefs, competencies and patterns of behaviour that determine the commitment to, and the style and proficiency of, an organisation's health and safety management'.
This definition relates safety culture to personal (and work group) attitudes, thoughts and behaviours. These reflect the style of the work organisation, including its approach to safety management. Safety culture thus has two dominant, and interrelated, components:
1. The framework determined by organisational policy, procedures and management actions (what the organisation is); and
2. The collective individual and work group responses (their values, beliefs andbehaviours).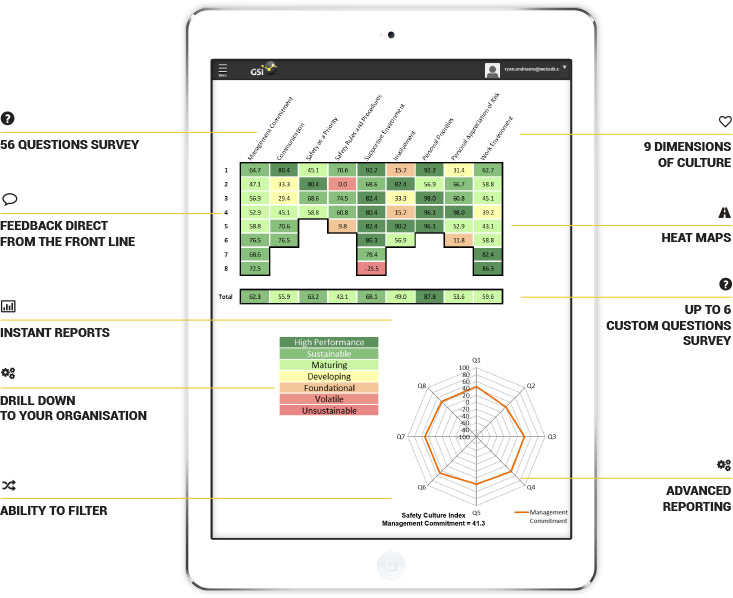 WHAT IF YOU COULD GET DIRECT FEEDBACK FROM THE FRONT LINE ON YOUR SAFETY CULTURE?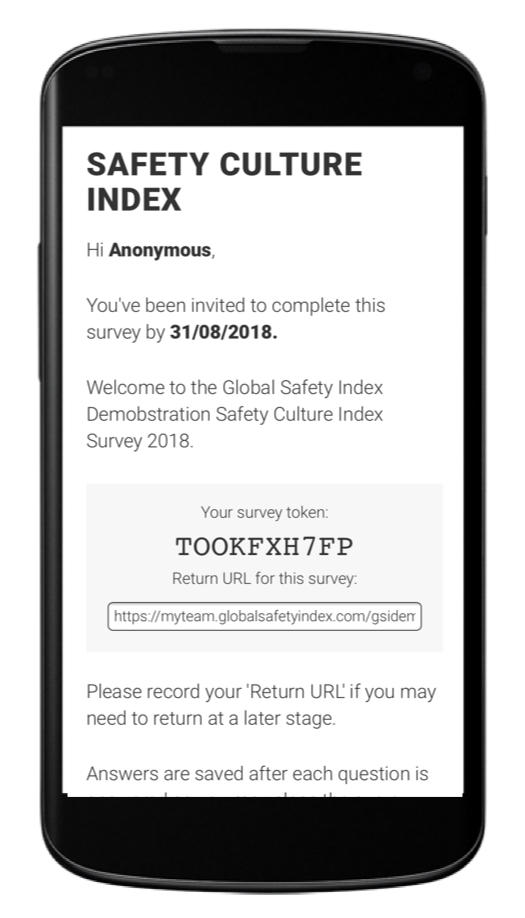 SAFETY CULTURE INDEX COVERS
In general terms, the attitude, measures, or dimensions used in this index fit into the following broad areas: 

ORGANISATIONAL CONTEXT
Management Commitment – Perceptions of management's overt commitment to health and safety issues
Communication – The nature and efficiency of health and safety communications within the organisation
Priority of Safety – The relative status of health and safety issues within the organisation
Safety Rules and Procedures – Views on the efficacy and necessity of rules and procedures. 
SOCIAL ENVIRONMENT
Supportive Environment – The nature of the social environment at work, and the support derived from it
Involvement – The extent to which safety is a focus for everyone and commitment to being actively involved
INDIVIDUAL APPRECIATION
Personal Priorities and Need for Safety – The individual's view of their own health and safety management and need to feel safe
Personal Appreciation of Risk – How individuals view the risk associated with work.
WORK ENVIRONMENT
Physical Work Environment – Perceptions of the nature of the physical environment.
ORGANISATION SPECIFIC FACTORS
Attitudes to specific safety related systems and procedures (for example, permit to work systems) can be included as necessary.
GAIN A COMPLETE PICTURE OF YOUR ORGANISATION'S CURRENT SAFETY CULTURE MATURITY THROUGH CAPTURING THE VIEWS OF EMPLOYEES FROM WITHIN ALL AREAS AND LEVELS OF THE ORGANISATION.