The GSI platform powers the SLI, SCI and MHI as well as offering dashboarding and Benchmarking.
all of your key safety perfomance insights, in one
simple dashboard
Leadership is the single most important driver of organisational culture and sets the cultural norms and expectations throughout the organisation. The GSI Dashboard enables you to monitor the results of your SLI and easily connect the dots between performance inputs and outputs.
Safety Culture is made up of multiple cultural dimensions and drivers. The GSI Dashboard enables you to track your safety culture maturity and see a snapshot of the specific aspects of culture to focus on to maximise your efforts in addressing key safety challenges.
Safety Leadership and Culture drives behaviours and those behaviours yield results.  Although the primary focus of any mature organisation is to focus on proactive input measures, the GSI Dashboard also captures key output measures (LTIFR and TRIFR) to demonstrate the impact of performance.
benchmark
your performance
The GSI Platform offers comprehensive benchmarking capability providing organisations the ability to not only compare data-sets internally but also map their performance against other organisations in both the same and different industries, providing a more comprehensive context of performance.
Benchmarking is membership driven and opens up the opportunity of networking with other members to exchange concepts, ideas and improvement opportunities.
How does your safety leadership compare against others within your industry?  What about outside your industry?   What about other countries?
Using the dropdown, you can benchmark beyond overall score, you can also see how you compare against each dimension of Safety Leadership.
GSI offers comprehensive leadership benchmarking that can be used for internal and external use for both improvements and research.
Is your culture good for your industry but poor when compared to others?  Why are some industries higher performing?  How do you really compare when looking inside and outside your industry or country?
What about particular dimensions or drivers? Simply select the dropdown and get an instant benchmark.
GSI offers comprehensive culture benchmarking that can be used for internal and external use for both improvements and research.
Although the focus is on proactive leading inputs, it's good to review the impact on outputs such as lag indicators too. 
Through the GSI network, we are able to provide benchmarking against organisations lag indicators such as LTIFR, TRIFR and numerous others. Custom dashboards are available too.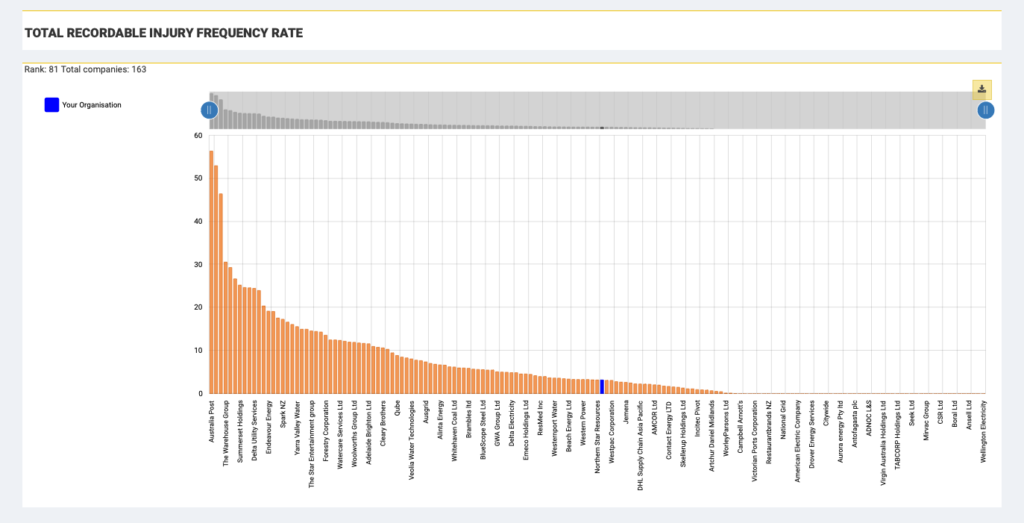 Book a demonstration today to experience the GSI Dashboard and its reporting capabilities.
By submitting your contact details you agree that Global Safety Index may contact you regarding offers, updates, and other marketing messages in accordance with our privacy policy.